Today I was looking to put together a listing of the Top Ten technology websites in Australia, but I ended up researching much more than I should and so got more than 10 for you. I went surfing ( the internet off course) and top websites that know what ranks in Australia like Alexa.com , Googletrends.com, and similarweb.com and a few others
Data from – Best Tech Ranking Websites 2017 to 2020
There was an interesting mix on top go to websites by Australians – I was surprised at finding vic.gov.au the government website ranking at #43 on alexa, not so surprised at livejasmin.com #35 and pornhub.com #24 rankings. I really don't know how diply.com was on that top list.
How alexa.com ranks websites

Alexa ranks websites based on a combined measure of page views and unique site users, and creates a list of most popular websites based on this ranking time-averaged over three-month periods. Only the site's highest-level domain is recorded, aggregating any subdomains.
Here is what similarweb found for the top news and media websites in Australia.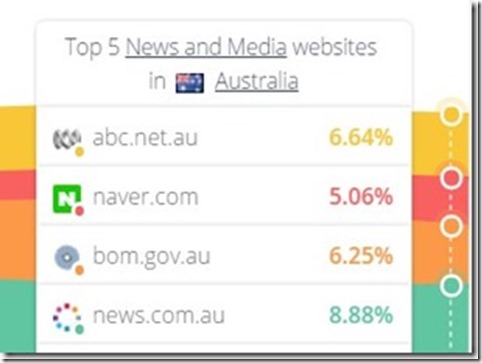 Similarweb collects data like which website gets how much traffic from which country comes to a website and more similar data, so they got a pulse and where people are going on the internet.
What similar webs gave me on technology niche
Well similarweb did not have a technology category, so I browsed computers and electronics and got office.com, apple.com and xero.com – so I browsed onto their other category internet and telecom and got facebook.com and google.com.au with top ranks.
Not satisfied I surfed onto Arts and entertainment category and got websites like "Netflix.com" "youtube.com" and imdb.com as top ranking websites in Australia.
I, just did not rely on google.com , but also looked into popularity on Facebook.com where people spend a lot of time browsing content nowadays and has its own popularity ranking within the facebook world.
You'd be surprised to know – Real Madrid footballer Cristiano Ronaldo has overtaken Shakira to become the most followed person on Facebook according to BBC. The 30-year-old star now has 107,096,356 likes compared to 107,087,100 for the Colombian singer.
Some top tech pages on facebook
There is not much information on top ranking Facebook pages in technology, but if we look at news and media in Australia , these websites (sbs, abc and 7news) are definitely doing well with a large fanbase on facebook. Nine.com.au and yahoo7 is also doing well with their fanbases on facebook.
According to roymorgan.com.au – Three million Australians (14+) visited one or more of these Top 10 tech-focused websites in an average four weeks in the year to March 2016—up 34% since the year to March 2013.
So I collected all the information from these top ranking categories from these different websites and came up with these top ranking technology websites and came up with my own little refined algorithm for "Top Tech Websites in Australia for 2017" and here it is listed below.
The data is collected from these freely available top data collecting websites (alexa,similarweb etc) , including social media platforms facebook.com and more and web search engines including bing.com and yahoo.com apart from google.com.au.
The top 10 Best Technology Blogs for Australia
Technology and consumer electronics news, reviews and deals. Gizmodo covers computers, software, mobile phones, TVs, MP3 players, games, vehicles and peripherals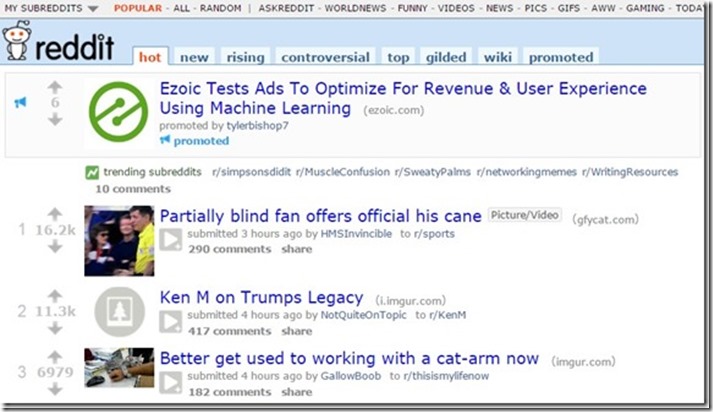 https://www.lifehacker.com.au/
If you want to get the most out of technology and work smarter then Lifehacker Australia's productivity tips, downloads, shortcuts and website recommendations will help you with it.
Netflix.com.au – Official Site
This mainly tv series streaming website has a Flat monthly fee streaming TV and movies service at an affordable price and has managed to take a huge chunk from foxtel's monopoly.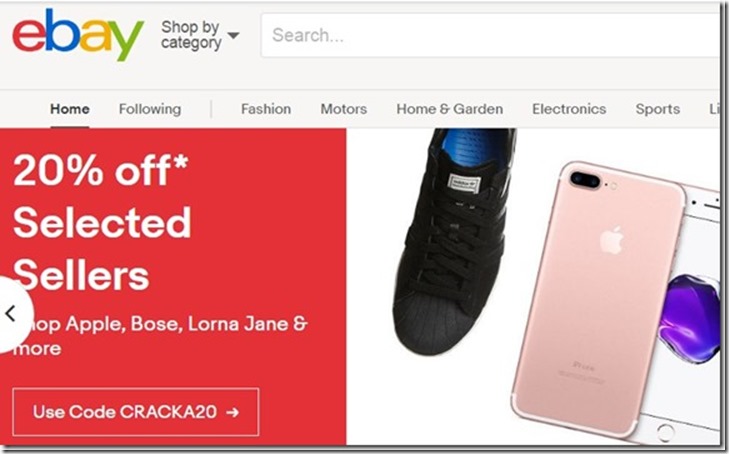 Ebay is one of the biggest online buy and sell websites that started with suction style listings and now has big commercial companies regularly selling on their platform as well.
Imgur is the Internet's visual storytelling community .Its a viral website that has interesting content mostly in pictures.
Among top few technology sites, this one is the best tech news website to get the info about gadgets, technology, reviews on smartphones, tech videos and information covering latest topics like smart home devices and electronic accessories.
Ladbible is the home of entertainment, viral video, trending content and the latest news. They are the biggest community in the world for a generation of social media viral content.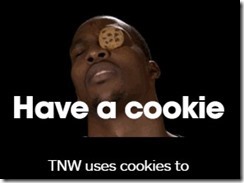 THENEXTWEB.COM – Official Site
The NextWeb founded in 2006 is now the world's largest online publisher that delivers latest information for internet technology, gadgets , new devices & info related to tech companies. They do a great job on promoting their content on social media platforms like Facebook in a viral news kind of way.
Its News for nerds, stuff that matters. Timely news source for technology related news with a heavy slant towards Linux and Open Source
Gumtree Australia – Official Site
Gumtree is the #1 classifieds site in the UK,Australia, South Africa, and Singapore.

BuzzFeed is a buzzing independent digital media company delivering news and entertainment to hundreds of millions of people around the world in a social and viral environment kind of way.
Mashable.com, founded in 2005 by Pete cashmoore covers topics related to latest technology, gadget reviews, social media tips. They also cover new startups related to technology and innovation.
Arstechnica, founded in 1998, one of the oldest tech news magazine. It has been regarded as a trusted source for latest scientific advancements, tech policy analysis, hardware performance analysis, game reviews. They also created ars in 2001, it's first type of IT publication covering gaming and tech related news.
2017 – Quantcast MOZ and Wikipedia Rankings
While this listing above is one of the top listing I have compiled for top technology blogs in Australia, there are still many more websites with many more rankings in similar or related niches. I was not so much surprised to see linked.in and wordpress.org ranking at no .5 and no.6 at the https://moz.com/top500 ranking list.
Another top listing website like Quantcast.com listed amazon.com and Wikipedia.org at no#4 and no#5 for world listing which confirms their popularity online. This website surprisingly gave buzzfeed.com and wikia.com as top popular websites for Australia.
Wikipedia.org has its own list amalgamated from similarweb and alexa, among the usual suspects for top world websites, I noticed Chinese websites like "baidu.com" – (the equivalent to the Chinese Google search engine), qq.com (tencent) , and Aliexpress.com as popular Chinese websites in world listing.
Start- ups on the Australian scene
Start-ups haven't been doing too bad as well on the Australian scene, here are some start-ups with promise with some already having proved themselves.
Top startup tech companies in Australia

1. Atlassian

2. Xero

3. Envato

4. Campaign Monitor

5. Canva
Deloitte Australia has its own listing of top start-ups in Australia that are growing at a rapid pace.
You can also find out more about Australian online surfing habits reading this article on abc about top visited websites by Australians.
I started out with the top 10 tech blogs but ended up listing much more than that (currently at 14), if you have any more websites worthy of adding to this list, do  get in touch with  me at my blog over here.