Article by Jeff from www.digitalgrog.com.au
for Australian business times sports edition
(Joe Camporeale, USA TODAY Sports)
The biggest pay-per-view sporting event in recent history is almost here, with Floyd 'Money' Mayweather and Manny 'Pacman' Pacquiao finally coming together in the ring to find out who is the undisputed pound-for-pound champion on May 3rd.
Boxing is not celebrated that often , but when there is a big match the whole world comes to celebrate it. The Floyd Mayweather vs Manny Pacquiao match is one of the biggest matches from recent years and in 2015. Hopefully they won't be a rematch. The the world  soon gets ready to watch a $300m fight being dubbed the biggest of the century
The breathtaking figures – a possible $US200 million payday for the unbeaten American Mayweather and an estimated $US100 million bonanza for Philippine icon Pacquiao
Event details
Mayweather Vs Pacquiao
Sunday, May 3 at 11am
Replay 6pm, 12am, then 6am, 12pm, 6pm, 12am 4 May
What time does the fight start in australia?
Our coverage starts at 11am (AEST) Sunday May 3 2015.
The Venue opens its doors at 9am (AEST)
The first fight is carded for 11:30am (AEST)
The main event's probable start time is 1pm (AEST) [this is dependant on earlier fights]
British time, the main event is set for a 4am start.
Results of Boxing match
Mayweather beats Pacquiao on points

The five-weight world champion is now undefeated in 48 professional fights, stretching back 19 years.
The crowd was on Pacquiao's side, but it was Mayweather who improved to 48-0 with 26 knockouts.
Pacquiao fell to 57-6-2. One judge scored it 118-110 and the other two scored it 116-112 for Mayweather.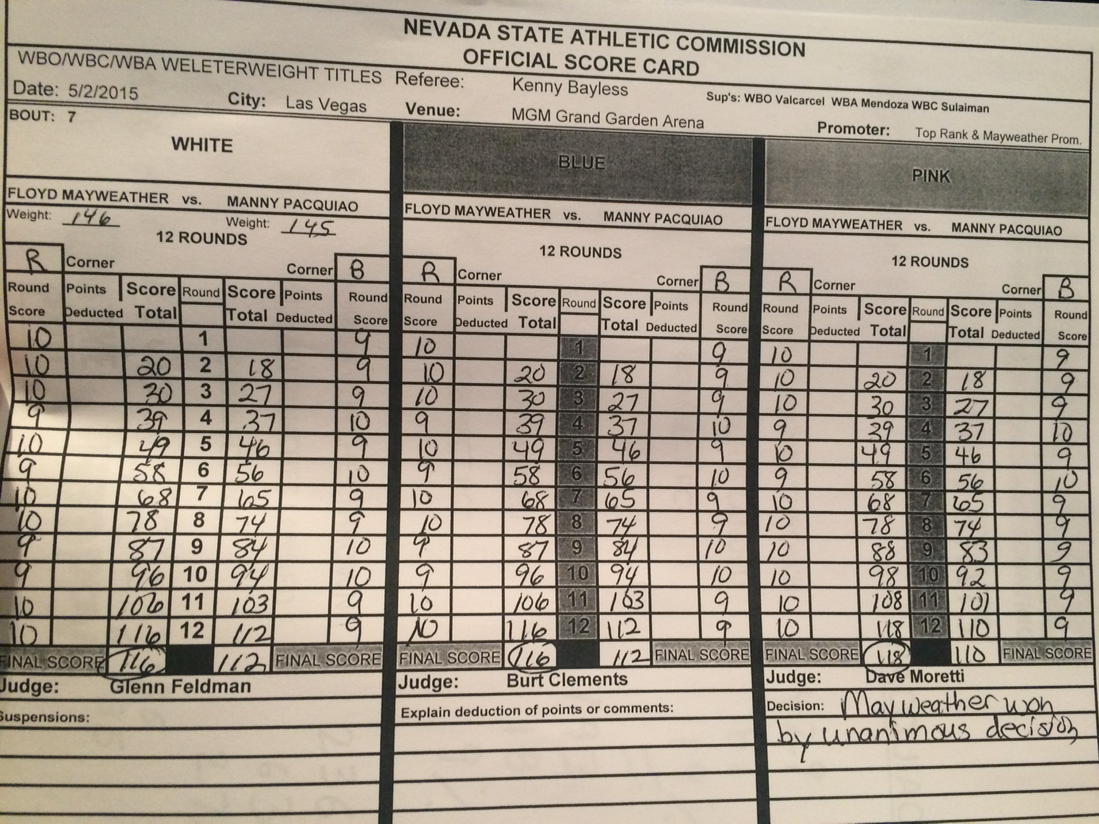 Follow

Ryan Songalia @ryansongalia
How can you watch the fight?
Playing on Sports channels
Foxtel subscribers can order online now – foxtel.com.au/myaccount
Order via remote by remote (66 hours before the event midnight 30 April AEST) OR order by phone on 131 999
Rival broadcasters Showtime and HBO joined forces for the first time since Lennox Lewis fought Mike Tyson in 2002 to show the fight, with Jimmy Lennon Jr and Michael Buffer sharing ring announcer duties.
In England, the fight is being shown exclusive on Sky Sports Box Office and you are best advised to order the fight for the weekend now to avoid added charges.
Mayweather vs Pacquiao, including the full undercard, will be available for £19.95.
Tickets for the bout – billed as 'The Fight of the Century' – changed hands for as much as $350,000 (£232,000) and American fans were charged almost $100 (£66) to watch on television.
—–
Pay-Per-View
For people who opt to witness the showdown from the comfort of their own homes, the pay-per-view telecast, which is co-produced and co-distributed by HBO Pay-Per-View and SHOWTIME PPV, will commence at 9 p.m. ET/ 6 p.m. PT. Costs are reported to begin at $100 for high-definition quality and $90 for the standard one.
Online Streaming
To see the fight online through Showtime PPV live stream please click here.
Free Viewing
For the rest of the world, the chance to see the Mayweather vs Pacquiao bout is being offered for free. Among the countries offering such services via their respective national TV broadcasting channels include Mexico, Thailand, China, France, Philippines, and Colombia. Slight delays brought by commercial breaks are to be expected,
Celebrities attending the match
A-listers in the 16,507 crowd included actors Clint Eastwood and Robert De Niro, singers Sting and Prince, and US tycoon Donald Trump.
[pic from http://www.theaustralian.com.au/ ]
Multi Grammy Award winner Jamie Foxx sang the American national anthem prior to the fighters entering the ring. So prized was a seat that many celebrities were even sat behind the press row.
[pic from http://www.dailytelegraph.com.au/]
WBO featherweight champion Vasyl Lomachenko dropped Gamalier Rodriguez twice on the way to a successful defense of his title in Las Vegas

In a non-title fight, Leo Santa Cruz went through the motions over ten rounds at featherweight winning every round against Jose Cayetano in a drab affair.

Earlier, Chris Pearson out-pointed London-born Sid El Harrak in a snooze-fest of a contest that only came to life in the eighth round.
TWITTER & FACEBOOK
Follow manny here 
https://twitter.com/MannyPacquiao on twitter
Follow Floyd here 
https://twitter.com/FloydMayweather
on twitter
Mayweather Defeats Pacquiao in Decision: (LAS VEGAS) Floyd Mayweather Jr. won a unanimous decision over Manny … http://t.co/GWuslG2IeC

— Rachael-Lyn Niziolek (@RachaelLynnNiz) May 3, 2015
—
Holyfield & Mosley score it for Pacquiao http://t.co/JphxnEWsLM pic.twitter.com/teeNjZWMBN

— Bloody Elbow (@BloodyElbow) May 3, 2015
—–
#MayPac: @FloydMayweather beats @MannyPacquiao via unanimous decision. Story: http://t.co/pyUOaoglU6 pic.twitter.com/TAR5vuKT6n

— TODAY Sports (@tdysports) May 3, 2015
Published on Jan 6, 2015 [
MAYWEATHER V PACQUIAO ☆ ALL 64 KNOCKOUTS ]
floyd mayweather vs manny pacquiao floyd mayweather highlights manny pacquiao highlights floyd mayweather knockouts manny pacquiao knockouts money vs pacman