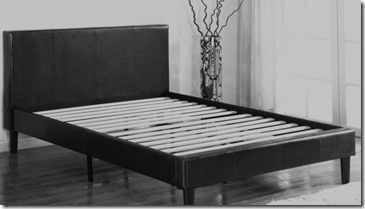 If your bed is old and worn out, it might be the time for buying a new one. There are a lot of things to consider before you make an investment in such an expensive purchase though, and going the cheapest route isn't always the best idea. Read on for more information on how to be sure that you select the right bed frame that matches your mattress.
Match Them Up
Most bed stores recommend that their customers choose their mattress and box springs before they pick out their bed frame when they go furniture shopping. The reason for this is that the comfort of the mattress is the most important to a good night's sleep. Also, some mattresses and box springs come in varying heights, and the frame has to match them properly. For instance, pillow top mattresses are a bit thicker than regular mattresses, which means if you buy this type of mattress, you must select a frame with a head and foot board that are a bit taller. Just to be sure you get the right one, bring a tape measure along with you to measure the mattress and box springs, so you know how far they will come up on the frame. If you are an exceptionally tall person, don't forget to measure the length as well as the width. It also helps to know the dimensions of the room that the bed will be in, so you know that the bed frame will fit in it without being too crowded.
Fit Your Decorating Style
The bed frame should match your accessories and decorating style, yet be sturdy and solid, so it will last for many years to come. If you aren't sure what your decorating style is, look around the rest of your home. Are the pieces modern and sleek? If so, a metal bed frame might fit in perfectly. Or, do you have lots of antiques and country accessories? In that case, a four poster bed frame might do the trick. Take a picture of your bedroom along with you when you shop for your bed frame, so you can be sure to get one that you know you'll love.
Staying in Your Budget
Before you go bed frames shopping, sit down and calculate a budget that you know you can afford. Keep in mind that going the least expensive route isn't always a good idea. It is important to consider who the bed frame is going to be for when you determine the amount that you want to spend. For instance, if the bed frame is for a child, it needs to be safe and stand up to little ones that love jumping on the bed. If the bed is for a teenager then it should be mature enough in design that it can possibly be taken with them when they are old enough to move out.
Get Help Choosing Your Bed Frame
If you need help choosing your new bed frame or even a new bedroom suite, give www.mobilemattress.com.au a call. Their friendly and helpful staff can give you the advice that you need and answer all of your questions, so you can be sure that you get exactly what you want and need in a bed frame. Or, you can visit their website for more information about their products.