The Australian JULIAN ASSANGE , wanted by British authorities for breaching bail conditions after a court ordered his extradition to Sweden, is just hours from learning if Ecuador will protect him. If not, he faces being ejected from the embassy into the arms of police.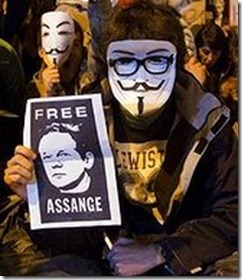 WikiLeaks tweeted this morning that police in two large vans had arrived ''to surround the Ecuadorian embassy in London'' about midnight, local time.
The Ecuadorian government will announce it decision on Assange's bid at 10pm today(AEST).
Two Metropolitan Police vans have parked directly outside the entrance of the Ecuador embassy in the west London building.  Several police vans are outside the embassy, police have been seen entering through a side door and uniformed officers are standing guard at the front entrance.
According to an Australian law expert., Any incursion by the British at the embassy would be ''without modern precedent'' and could end up before the international courts.
"The Ecuadorian embassy enjoys protection under Article 22 of the 1961 Vienna Convention on Diplomatic Relations which precludes the United Kingdom authorities from entering the embassy without consent.

"If the United Kingdom revoked the Embassy's diplomatic protection and entered the Embassy to arrest Assange, Ecuador could rightly view this as a significant violation of international law which may find its way before an international court."

Mr Patino told a news conference that Ecuador had received a written threat on Wednesday from Britain that "it could assault our embassy" if Assange was nothanded over.
Why would UK take this extreme step ( with possible international law beingbroken)
Some possible reasons
Pressure from Other countries( mainly US and Sweden) to get Assange extradited
UK Considers Ecuador a small and powerless country with low risk in  taking this bold step for this reasons.
Poor decision making process by some London authorities.
This increasingly it seems as a a matter between Ecuador and the United Kingdom" though it could have international conseqences
Police have clashed with a Huge protests at the Ecuadorian embassy in London as tension mounts over WikiLeaks founder Julian Assange's bid for political asylum. Media Commentators have said that US is putting pressure on other governments to  make the extradition of  Julian assange to  Sweden and then the US successful.
A "citizen journalist" with the twitter account https://twitter.com/alburyj, was streaming the ongoing activity at the site  , but the feed has since stopped.
Guest post by Sheldon