The "2011 AUSTRALIAN Budget" is here  and as predicted  by swan they would be some cuts ,  the budget was quite boring  with just some nip and tucks in a few places.It  was nothing extra ordinary , in fact some people  might  also say it was a bit over cautious , not  to upset too many people.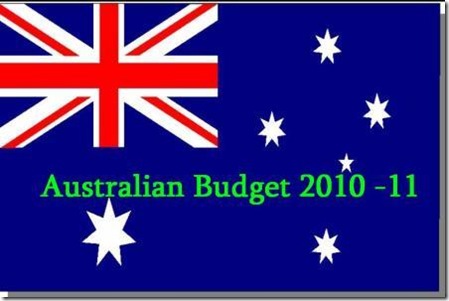 Commodities boom to being back Budget 2011 in surplus in 2 years time
While the australian budget  focused on providing jobs , it also made it  tougher for the dole bludgers to get more out of the system. It did not have much changes in relation to property investment and real estate in the 2011 budget , for which many might have had a sigh of relief.
So to make it simple lets just focus on what is going up in the budget  and what is going down in this 2011 Budget
Australia Budget 2011 -What is going up? (Less benefits or costs increase)
Means test for high income earners for family payments (Less benefits)
Low income tax offset  taken away to discourage  people doing investment in the name of the children to take adavantage of the Investment offset for teens
Entrepreneurs' tax offset is gone
Cuts to public service funding ( efficiency dividends)
Families: Family Tax Benefit will be cut off when children turn 21 instead of 24, saving $29.2 million over four years
Australia Budget 2011 -What is going Down? (More benefits received & Costs decrease)
More apprenticeships (jobs & training) available to the Australian people ( by creation of the $558 million National workforce development fund)
$5000 tax break for small business vehicles.
$2.2 bn given for mental health sector services over five years
Raise tax free threshold to $16,000 for low income earners
Lower tax on bank savings with 50% discount on upto $1000 interest income
Tax returns simplified with a $500 standard deduction for work-related expenses, without need of receipts, rising to $1000 from 2013.
Applicants for disability support pension will first go on the dole and then have to prove that they cannot get work.
Company tax falls to 28 per cent for small business from 2012-2013.
Budget predictions 2011
Considering  that  Australia has been hit with  the "yasi cyclones" in the eastern states  majorly affecting the booming  mining industry and  agricultural industry  and also the "fires and floods in western Australia" , this budget back to surplus in  2years is a good suprise.
Economy expected to grow by 3.25 % in 2010- 11
Unemployment rate set to fall to 4.75 % in 2011-12
The full Australian budget paper is available at  http://www.budget.gov.au/ and get the "WA State Budget over here"
More Related links