Savvy businesses in the construction industry are exploring on technological advancements to solve the challenges their industry face. They're constantly looking for solutions to reduce production costs, mitigate employee's safety, boost production, and improve competitiveness. At present, unmanned aerial vehicles (UAVs)—also known as drones and virtual reality (VR) are helping construction companies achieve these goals.
Engineer flies a drone to inspect the ongoing construction of a commercial project. | Photo from 3D Robotics
The precision of both UAVs and VR technology are a great contribution to the industry's professionals. Land surveyors use drones in measuring and mapping construction sites while engineers use it to monitor ongoing construction. On the other hand, VR technology enable architects to efficiently plan and design projects.
Together, VR and drones are not just streamlining business operations, but revolutionising the entire industry.
Drones take engineering and surveying to the new heights
Drones are not limited to commercial use. These unmanned aircraft also proved that they be a leverage for construction companies who use them.
One of the best application of UAVs in construction is in land surveying. Surveyors are the the first group of people at a construction site. Their task is to map the construction site and produce accurate measurements, which will be used to apply for building permits. These measurements will also be used by builders in the construction phase. They use equipment such as robotic total station theodolites, global positioning systems (GPS), and laser scanners when deployed to do field work.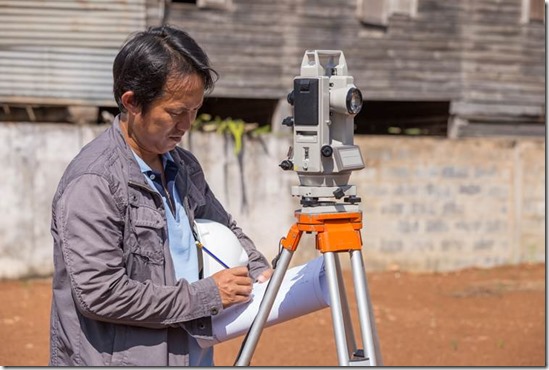 Land surveyor completing his tasks on the field | Shutterstock Photo
Sometimes, a construction site has steep grades and equipment which are dangerous especially when you're carrying heavy tools. Based on previous reports, most fatalities and injuries in the construction industry are due to falls. As a solution, companies equip surveyors with drones, especially when deployments are too difficult or too risky for their employees.
Instead of sending the worker in a hazardous situation, these companies let their employees pilot the drone from a safe spot near the construction site. Drones can navigate over the site and quickly capture high-quality video and still photography. It can go within dangerous and previously inaccessible areas.
Despite remote operation, surveyors can still produce accurate measurements using a process called photogrammetry. Photogrammetry is the science of making measurements from photographs. The output of this process is a UAV Map—an accurate digital drawing or 3D model of the construction site which architects and engineers can use in the design and construction phase. With these in thought, drones reduce a worker's exposure in the field, hence keeping them safe from accidents and other life threatening events.
In addition, some drones, especially semi to fully autonomous ones have built-in intelligence and sensors with it. This allows the drone to accomplish the task programmed by the remote pilot alone. The sensors also record other important surveillance information such as position and movement of the drone, distance, temperature, pressure, colour, light, sound, and even climate.
These possibilities with UAV technology help builders identify potential risks at the construction site. It enables them to do preventive measures and avoid future problems with the structure they're building. Knowing these things help them optimize costs of construction and maintenance.
Efficient inspection and project monitoring tools
Aside from surveying, engineers also use drones in inspecting an ongoing construction of a structure. Hovering a drone over a construction site helps a firm monitor the progress of a project. Engineers get a first hand data of improvements, as well as problems in construction. Through this, they can keep a project on track and within the budget.
Large companies who manage multiple projects at the same time can also save energy, time, and money in deploying engineers and drones. Numerous pairs of engineers with a semi to fully autonomous drones can monitor different job sites. The drones act as substitute to the heavy software and equipment, which still produce complex readings in a construction site.
Furthermore, the companies can include drone videos and photos when submitting reports to their clients. It's an inventive way of showing the client the progress of construction.
At the moment, the construction sector is excited to find out more about what else can UAV technology contribute to the building industry. The new drone regulations in Australia also enabled them to explore and experiment with this technological breakthrough in construction.
VR meets Architecture for a better design experience
Another huge leap that took place in the construction industry was the use of virtual reality in building design. Architecture experts worldwide saw it as a whole new way of designing—an innovation that changes the way people design residential and commercial structures.
What architects see through their VR goggles | Shutterstock Photo
When architecture met VR technology, architects were able to show their clients a realistic view of their project in a computer simulated environment. In the process, the client will wear VR goggles which will help them see 3D renderings that are captured in real-time. They also use hand-held devices to track the movement of the user in the digital environment.
Some Australian architecture firms like Superdraft Pty. Ltd develop their own virtual reality experience. The company named theirs as Viz360, a design software similar to a game where the clients can enter doors, look out the windows, use the stairs, and change pieces of furniture. Through this, their clients experience the structure before it is built. They can also fully engage themselves in the design process.
At the same time, VR technology also made it possible for architects to explain huge design changes to their clients. The clients can see changes in real time through the VR goggles, hence they can express their requests and the designer will understand their expectations. With these in thought, VR technology assures the clients on the output. Assurance begets trust and that may convince them to buy the design and proceed to construction.
Changing how work is done
To take advantage of these innovations in the industry, companies should make them an active part of their business process. The use of UAV and VR technology changes the roles of the employees, but they're not replacing humans. These digital workers are created to ease the workload and to decrease their stress levels. Through this, humans can focus more on finding smart and creative ways to build structures.